This IPAD Pillow is my honest review
Ipad Pillow
It's a pillow. It's a big piece of foam that offers three angles so you Can view your devices. Sitting, lying down, or standing up. Note that this is Ontel Products. Keep it in the don't mind, because it'll come up a little later. You Ipad pillow have three different Viewing angles. Rest here. 72 degree angles, 62 degrees and 42 degrees. There's a bag here. I think it was advertised as a luxury model, but I think they all have a bag, so I don't know if there's not actually a deluxe model.
The cushion is its application.
It's bulky and not ideal for travel. I can agree with that because I don't think you can squeeze it into a small enough Place if you want to take it on a plane. Maybe in the car, but I think That it's kind of bulky. I would say that's true because it's kind of unforgiving and pretty big. So that would be a problem. I don't think. It's very travel-friendly. Let's try to read a book. You're still going to have to hold the book because it's going to close. Unless your book stays open. think you're going to have to hold the book anyway, so what's the difference between and this? Not much. It would depend on the book.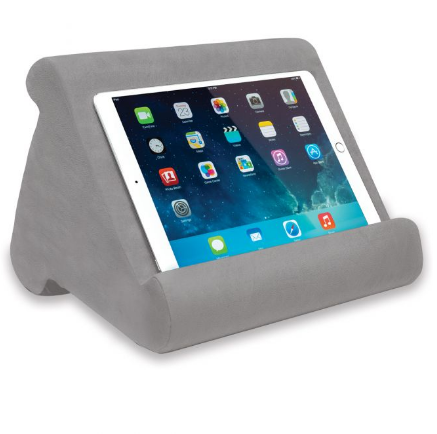 The angle of the tilt.
Let me see how it's done from a sitting position. I was on the couch. It's a different angle here. Okay, now this angle is pretty good. Oh, this one's too steep. I can feel it. like it's going to fall. Let me see. This one's not too bad either. I think that's just the angle I'd look at it from. These two are actually pretty good. Luckily, one of the three angles works for me. I think there are some people where none of the angles will work for them. Let's try it in the car and see how it works there. I'm sitting here kind of in the cramped back seat and I have my pad and my iPad with me. I can't say I like this angle. Let me see. Yeah, I feel like I need more of a tilt. Let me see. Oh, that's even worse. I feel like it's falling. It really has fallen. I can see in a bumpy car it's not going to be good. I think a 42 degree angle would be best for the back seat, because when you're that cramped, you need a little bit more room. It's tilted back a little bit, so I think yeah. Feasible.
To sum it up.
Some people will think it's useless. I think I like it. I think I like it in the back seat. You know you can sit there, you have your arms folded, you can kick back In the car while somebody else is driving. I want to see what happens at the end of this test. I have an idea to show you how easy it is to pillow. Oh, God, that's not... It's not going to be easy. It just says it's a machine washable cover, but it doesn't say how to take it off. It's not that easy. I'll take it off. I'm going to take it out of destroy this thing. Oh, I'm making progress.