Ipad Pro 2021-Best Storage and Thunderbolt Hub Accessories
There are many accessories that make using your iPad more enjoyable. Whether you are an artist, creator, student, or office worker, you'll find items that help you get the most out of your shiny new iPad Pro.
Storage options.
Not just about what internal storage options to consider for the iPad Pro... But also about external SSD drives. We'll also cover some of the docking stations and hubs that will work for the iPad Pro. If a feature or product is suitable for other tablets, I'll be sure to mention it. Let's move on.
With the advent of Thunderbolt, Apple has opened a lot of doors for us when it comes to storage. And also for connecting external monitors. External SSD hard drives I have two choices in terms of speed, size and, of course, price range. Of course, there are many brands available, and I will be testing them soon... But we get a good variety depending on your needs and budget.
Samsung T5.
Let's start with the Samsung T5, which is probably a budget option. They feature a USB 3.0 interface and come In three sizes: 500GB, 1 and 2 terabytes - all three of these models have the same claimed read and write speeds. The read and write speed is 540 megabytes per second. At the time of writing, the 500GB sells for just under $100. The 1TB sells for about $110 and the 2TB sells for about $200. Now it's important to pay attention to the write speed. Will you be able to do crazy 4K video editing at that write speed?
Sure, it will do the job. But. I encountered some stuttering on the timeline. Especially when using effects and stuff like that. But if you're smart about your workflow... like using a proxy for editing, that's totally fine. I wouldn't relegate it to being a data backup device, but it's not at high performance. Which leads to the next level of speed, where we have the Samsung T7 and this guy here.
Samsung T7.
This one here... Sandisk Extreme. Both are USB 3.2 Gen. 2 So now we've gone from 540 megabytes per second to 1,050 megabytes per second... in both reads and writes. And writing "claimed speeds." I say "claimed" because it depends on the type of data you are transferring or accessing The thermal condition of the device itself and other variables...
On the Sandisk Extreme, you now have more options for different workloads. You pay a little bit more... The 2 terabyte version costs about $300. But that's for the long haul! With 2TB or even 4TB, it really means you don't have to worry about running out of space so quickly.
For projects you're not going to use, I would highly recommend you use external hard drives. Sandisk also has an Extreme PRO version that will give you 2000 megabytes per second. You get speeds that are REALLY close to the speed you can get on the internal drive of a device like the Macbook Pro! Like the Macbook Pro itself! Which is just unbelievable.
Samsung X5
And for even better performance, Samsung has the X5, an NVMe variant with Thunderbolt 3. But it's really quite expensive! With their claimed write speed of 2300 megabytes per second and a read speed of 2800 megabytes per second, this is a device for serious professionals. professionals.
Thunderbolt
Now let's talk about the Thunderbolt options I'm considering. In order to really take advantage of the full capabilities of the iPad Pro, we're going to need to give it some extra features. That's exactly what Apple suggests we should to do right, it should be our next computer, so. And I'll preface this section by saying that I haven't used any of these devices, and the iPad hasn't yet and the iPad hasn't shown up yet, so buying any of these right now is a little risky.
I'll take that risk and test them with multiple monitors, transferring large amounts of data, hooking up cameras to it, doing stress tests... EVERYTHING!!! Okay? But for now, think of it as research. Here are the devices, in order of preference, that I'm going to be looking at... based on the specs I've seen that look like they would be GREAT For the iPad Pro. Starting with the OWC Thunderbolt Dock, I was very excited to try this brand. I've heard great things about it. And this dock looks like the real deal, with 4 thunderbolt ports, one of which with 90W Power Delivery, I think it will be just what you need.
However, right now... it seems to be pretty popular, and it would take 44 days to ship... So, after doing a little research on what might be a good alternative... I came up with two options. The first is the Caldigit Thunderbolt 4 Element Hubs. Which also come with 4 Thunderbolt 4 ports and all sorts of other amenities. Another option is the Caldigit TS3 Plus, which is probably the best at the moment, because it's available and you can get it tomorrow. Frankly, this will probably be the safest option for most people who want to buy something BEFORE they get an iPad Pro, and before you see any of my reviews. Right? If your job depends on having a dock once you get your iPad, then it probably is.
The safest option is unless you can find an OWC or element hub. The only problem with the TS3 plus is that while it's a great hub, it only has two Thunderbolt ports, so like I said, it's probably fine for most people, but for a similar price you can protect your setup by waiting a bit until newer devices with Thunderbolt 4 support are available. Thunderbolt 4 will be available again. By the way, guys.... Data storage is great, but it may not be the most important accessories for the iPad.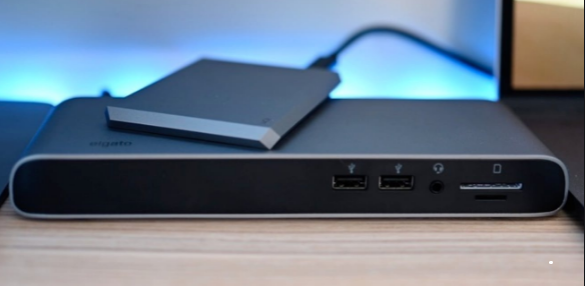 iPad.
Another decent option I found is the Anker PowerExpand Thunderbolt 4 Mini Docks. But I would definitely refrain from this option for now because there seems to be some confusion in their product information. I bought the 5-1 Mini Docks because it said it supported iPadOS, but when I contacted customer service, they confirmed that it didn't - it turned out that they they had the wrong manual and the information was mixed up. While buying the dock, they never confirmed if it would work with the iPad Pro, so the saga continues.
It comes with an 85-watt port for charging laptops, and a 15-watt port for charging smartphones (not not the best charging ability for smartphones, but that's not this little guy's main strength. Where it will shine is in the number of Thunderbolt ports. It comes with 3 Thunderbolt output ports, which is fantastic for connecting other accessories. If you're going to be doing video editing or music editing, for example... or working with a lot of high quality images, you're going to need pretty decent storage access.
Conclusion
In conclusion, if you're going to take advantage of the new features of your iPad Pro, then these storage accessories are a must. But if you're not in a hurry, don't forget..... You have storage on the iPad itself! So it's worth waiting for the global restocking. To REALLY get that variety of options and frankly.... More modern options with Thunderbolt 4 and more ports. But data storage for me stands very close to the top in terms of priority. Exciting times, folks!